This page is the brochure for your selected program. You can view the provided information for this program on this page and click on the available buttons for additional options.
Cornell-CALS Exchange: Jacobs University, Bremen
Bremen, Germany
(Exchange Program) (Outgoing Program)
Program Terms:
Academic Year,
Fall,
Spring

Program Dates &
Deadlines:
Click here to view
Restrictions:
CU applicants only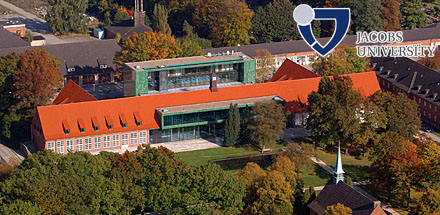 Overview
Semesters Available: Fall, Spring, or Academic Year
GPA Requirement: 2.75
Language of Instruction: English
Academic Calendar:
Semester 1: late August to late December
Semester 2: early February to early June

This program is only available to CALS Students.

Jacobs University Bremen, although located in Germany, is an English-language university. It is a highly selective, international, residential university. Students take all classes in English, including course evaluation and examinations. They live in residential colleges where English is the language of everyday activity and discourse. English is also the language of administration at Jacobs.

Jacobs follows the principle of research-based learning. Exchange student have the opportunity to take part in research projects, lab classes or internship programs. Participation in research projects should be arranged individually with faculty members.

Organization
Private, independent university, registered as a not-for-profit organization

Independent board of governors: sets overall policies

The president, who heads the institution, is hired by the board of governors

The primary language of instruction and campus communication is English
Opened
2001 (the university´s founding was supported by the city-state of Bremen, the University of Bremen, and Rice University in Houston, Texas)
Location
Free Hanseatic City of Bremen, Germany (population: about 550,000)

Campus: 34 hectares (about 90 acres), 17 kilometers (10 miles) from the city center
Academic Year 2012/2013
Bachelor programs: 739 students

Master: 144 students | PhD: 411 students

Foundation Year: 16 | Exchange / Visiting Students: 40

Total: 1,350 (representing 107 nations)
Scientific Staff
130 professors plus additional guest lecturers

268 research and teaching personnel

Teaching assistance ratio: Professor : Students = 1:10
Degrees
Bachelor of Arts, Bachelor of Science, Master of Arts, Master of Science, Executive Master, Doctor of Philosophy
Areas of Study
Economics and Management

Electrical Engineering and Computer Science

German

History

Humanities

Law

Life Sciences

Logistics

Mathematical Sciences

Natural and Environmental Sciences

Psychology

Social Sciences

Statistics and Methods
Housing - Four residential colleges available
All undergraduates live on-campus in Alfried Krupp College, Mercator College, College III, and in College Nordmetall (total of 900 rooms)

Housing is guaranteed on campus in residential colleges. Students live in modern single rooms, in which a bathroom and small corridor are shared between two students. These living arrangements allow for plenty of privacy, yet make social interation an inevitable and pleasant part of each day. There are kitchens on each floor of the colleges, a student lounge, game and TV rooms, snooker and billiard tables, a quiet study area, a college office, and a meeting room. Each college has a laundry room with washing machines and dryers, a bike storage space, and a party zone.

Each college can house between 200 and 300 students and has a faculty member in residence, who, along with his or her family, serve as college masters.
What to expect if you apply:

First of all, we're glad you're interested in joining our exclusive group! Yep, we're talking about the CALS Exchange Program! Since 1954, we have offered CALS students unique opportunities to study abroad. Through reciprocal agreements with select partner universities, CALS students integrate themselves into a partner university abroad, taking classes and living alongside degree-seeking students from the host university. In exchange, a student from our partner institution comes to study at CALS. Nearly all partner institutions in non-English speaking countries offer a wide range of classes taught in English.

Students are billed their regular CALS tuition, with no added administrative fees. Students purchase plane tickets and pay remaining costs such as housing, meals, student visa application fees, local travel, and personal expenses. Financial aid travels with eligible students. Hands-on experiences, internships, scholarships, and stipends are available at select institutions.

The CALS Exchange Coordinator is available by appointment for assistance with program selection, financial and travel planning, registration, credit, obtaining a student visa for host country, and pre-departure programming. Whether you're completely new to the idea, or you've been planning to study abroad since you were in elementary school, we want you to feel supported every step of the way!

The CALS International Exchange Program: Selection Criteria

We take great pride in our students selected to attend a CALS Exchange Program. The criteria for selection are based on a combination of 1) grades and academic preparation and 2) personal suitability as assessed by interview with exchange coordinator, personal essay, and academic references. While grades (especially for some partner universities) are a major factor, they are not the sole criterion for selection. Students who are concerned about their academic performance have the opportunity to improve their application by taking extra care with their essay and other application components.

Applicants must have no pending disciplinary action against them. Any past or current disciplinary actions must be disclosed during the application process and may be grounds for barring participation by CALS and/or the host institution. Students may not participate in semester exchange while on disciplinary or academic probation. Students may apply while on probation, but any conditional approval is contingent upon removal from probation before participation.

Successful applicants must:
Demonstrate good interpersonal skills, the ability to study in an overseas environment, and enthusiasm to be an ambassador of Cornell University and CALS

Be a current full-time CALS student (except for EPFL, which is also open to ENG students) with at least two full-time semesters of study before commencing exchange period

Meet minimum requirements of host university (GPA, foreign language ability, prerequisites, study focus, etc.)

Apply by CALS application deadlines
Step One: Meet with Exchange Coordinator
The Exchange Coordinator meets personally with every student interested in going on an exchange. During this time she will pre-screen you for eligibility and answer any questions you might have
Step Two: Application
Apply for the CALS Exchange Program using our new online system (hosted by CU Abroad's website)

Get your proposed courses you want to take abroad signed off by your major advisor

Complete the host/partner institution's application (we will provide to you--and submit for you--unless it's submitted online)

Apply for housing at partner institution or host location (unless you have to wait for your acceptance letter)
Step Three: Nomination
Our office nominates you to our exchange partner and will advise you when you've been accepted to the program
Step Four: Apply for student visa/residence permit
Once you receive your official acceptance letter from the partner institution you will be able to apply for your visa. You will need a student visa/residence permit for just about any host country in which we have partnerships. It is important that you know what is needed for your visa—don't worry; we will walk you through this process! (We even host visa sessions for students going to countries where the visa application process isn't so intuitive!)Foreign University Application (if not paper/PDF application, include a printout of online application)

You'll start making your travel plans now too!
Step Five: Attend Pre-Departure Meeting(s)
All students must attend the CALS Exchange pre-departure session

It's also a good networking opportunity to connect you with other students who are going abroad—before you go!
While you're abroad and upon return
Interested in sharing events from your life abroad, as they happen? We have a student blog program just for you!

After you return you can volunteer to be a buddy to a visiting student (we also throw you a welcome back party!)
CALS International Exchange Application Checklist
Form A: CALS Exchange Online Application Search for program at cuabroad.cornell.edu (even though it's a Cornell Abroad website, you'll still be going through the Exchange)

Form B: Proposed Course of Study (must be signed by you and your faculty advisor)

Form C: CALS Student Exchange Program Medical and Accident Form

Form D: CALS Student Exchange Program Participation Agreement/Release Form

Form E: Authority for release of information to the Office of the Judicial Administrator

Recommendation Forms x 2 Submit two recommendations (via the online application website). One form must be completed by your faculty advisor, and the other by a non-family member or friend, of your choice. For example: another Cornell instructor, Graduate TA, or employer.

Statement of Purpose Write a one page essay describing why you want to participate in the CALS Exchange Program and attach it to your CALS application. Include personal characteristics, contributions you can make, personal benefits you anticipate, how you adapt to new situations or uncertainty, and how the program will fit into your curriculum and career plans. Also include reasons why you feel particularly qualified to represent Cornell and the United States on a CALS exchange program.

Paper Copy of Transcript (do not use digital service—we cannot print these copies for our partner universities) Request an official Cornell transcript (University Registrar, B7 Day Hall, or online at http://transcript.cornell.edu) and transcripts from any other university you may have attended before transferring to Cornell. Transcripts can be sent directly to Christine Potter, 140 Roberts Hall.

Copy of Current Passport (should be valid for 6 months past anticipated return date)
Dates / Deadlines:
Dates / Deadlines:
Term

Year

App Deadline

Decision Date

Approx. Start

Approx. End

Academic Year

2018-2019

03/01/2018 **

Rolling Admission

TBA

TBA

Fall

2018

03/01/2018 **

Rolling Admission

TBA

TBA

Spring

2019

10/01/2018 **

Rolling Admission

TBA

TBA


** Programs may fill long before their final deadline. * Recommendation--For SPRING: APPLY in MAY to study abroad the following spring. For FALL/YEAR: APPLY in DECEMBER. Late applications may be accepted, but colleges typically need time to process your approval.